As an Amazon Associate, I earn from qualifying purchases. This post contains affiliate links. This means I will make a commission at no extra cost to you should you click through and purchase. Read the full disclosure here.
Affordable Camera and Lens Options for Real Estate Photography
Introduction:
Regarding Affordable Camera and Lens Options for Real Estate Photography, having the right equipment is crucial to capturing high-quality images that showcase a property's best features. While professional-grade DSLR cameras and lenses can be pretty expensive, there are affordable options available for entry-level photographers looking to enter the world of real estate photography. In this blog post, we will explore how and where to purchase an entry-level consumer DSLR camera and lens that are inexpensive yet capable of producing impressive results. Whether you prefer to buy new or used, this guide will help you make an informed decision while staying within your budget.
Research and Understanding Your Needs:
Before diving into the purchase process, you must understand your requirements and the features you need in a camera and lens for real estate photography.
Here are a few factors to consider:
Camera Features:
Resolution: Look for a camera with at least 18 megapixels to ensure sharp and detailed images.
ISO Range: A wide ISO range will enable you to shoot in various lighting conditions without sacrificing image quality.
Bracketing and HDR: These features allow you to capture multiple exposures and blend them to achieve well-balanced shots.
Complete Manual or Aperture Control: Real estate photography often requires precise control over settings such as aperture, shutter speed, and white balance.
Tilt-screen (Optional): A tilting LCD screen can help shoot at different angles, especially when capturing low-level shots or high-angle compositions.
Where to buy: Amazon, eBay, Adorama, or Walmart. See our Suggested Equipment Guide
Lens Considerations:
Wide-Angle: Real estate photography typically benefits from wide-angle lenses (around 10-24mm) to capture expansive interior spaces.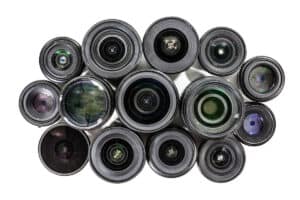 Don't forget the tripod:
Using a tripod is paramount in real estate photography as it significantly enhances the quality and professionalism of the final images. Real estate photography aims to showcase properties most appealing and accurately as possible, making using a tripod indispensable for several reasons.
Buying New:
Entry-Level DSLR Camera Options:
* Author's Choice * Pentax K-70: Known for its weather-sealed body and in-body image stabilization. The K-70 camera is very suitable for real estate photography.
Canon EOS Rebel T7 / EOS 2000D: This model offers a 24.1-megapixel sensor, Full HD video recording, and built-in Wi-Fi for easy file transfer.
Nikon D3500: With a 24.2-megapixel sensor, excellent battery life, and user-friendly controls, this camera is ideal for beginners.
Sony Alpha a6000: While not a DSLR, this mirrorless camera delivers impressive performance with a 24.3-megapixel sensor, fast autofocus, and compact size.
Affordable Lens Options:
* Author's Choice * Sigma 10-20mm f/4-5.6 EX DC HSM is a popular lens, available in mounts to fit all major DSLR systems.
Canon EF-S 10-18mm f/4.5-5.6 IS STM: This wide-angle lens provides excellent image quality and stabilization and is designed specifically for Canon APS-C sensor cameras.
Nikon AF-P DX NIKKOR 10-20mm f/4.5-5.6G VR: An affordable wide-angle lens with vibration reduction technology for Nikon DX-format cameras.
Sony E 10-18mm f/4 OSS: A compact, lightweight, wide-angle lens that offers optical image stabilization and is compatible with Sony E-mount cameras.
See our Suggested Equipment Guide
Affordable tripod Options:
* Author's Choice * Slik Pro AL-323: The Pro 300 series tripods are full-size aluminum tripods designed for stability and reliable long-term use.
Buying Used:
Online Marketplaces:
eBay: A popular platform for buying used cameras and lenses, where you can find various options from various sellers. Carefully review seller ratings and descriptions; don't hesitate to ask questions before purchasing.
Adorama: Offers previously used equipment with accurate descriptions and affordable prices. They have a condition grading system that is especially useful.
Amazon: You can always find used and alternate offerings of similar brands and configurations.
Local Camera Stores and Photography Communities:
Local Camera Stores: Visit local camera shops in your area and inquire about used camera equipment. They often have a selection of pre-owned gear available at reasonable prices. You can personally inspect the equipment and seek advice from knowledgeable staff.
Photography Communities: Join online photography communities and forums where photographers often sell their used gear. Websites like pentaxforums.com, fredmiranda.com and photography-on-the.net have dedicated forums for buying and selling equipment. Engage with the community, read reviews, and communicate directly with sellers to find great deals.
Important Considerations:
Condition and Shutter Count:
When buying used, pay attention to the condition of the camera and lens. Check for any visible wear and tear, scratches, or damage. Additionally, inquire about the camera's shutter count (number of actuation). DSLRs have a limited shutter life, so it's important to ensure you know the usage history.
Return Policies and Warranty: Always review the return policies and warranty information the seller provides. This will give you peace of mind if you encounter any issues with the equipment after purchase.
Accessories and Bundles: Consider purchasing camera bundles that include essential accessories such as memory cards, extra batteries, camera bags, and tripods. These bundles can provide added value and convenience.
Lens Compatibility: Ensure the lens you choose is compatible with the camera body you intend to purchase. Check the lens mount and compatibility specifications to avoid any compatibility issues.
Tips for Safe Purchasing: a. Do Your Research: Read reviews, watch YouTube videos, and gather as much information as possible about the camera and lens models you're interested in. This will help you make an informed decision and avoid potential pitfalls.
Ask Questions: When buying used equipment, don't hesitate to ask the seller about the item's condition, usage history, and any included accessories. Request additional photos if necessary.
Check Seller Ratings and Reviews: If purchasing through online marketplaces, check the seller's ratings and read reviews from previous buyers. This will give you an idea of their reputation and reliability.
Secure Payment Methods: Use secure payment methods such as PayPal or credit cards that offer buyer protection. Avoid making payments through wire transfers or other non-secure methods.
Conclusion: Acquiring an entry-level consumer DSLR camera and lens for real estate photography doesn't have to break the bank. You can find affordable equipment that meets your requirements by carefully researching and understanding your needs, exploring new and used options, and following safe purchasing practices. Remember to prioritize essential features like resolution, ISO range, wide-angle capability, and image stabilization. Whether you buy new or used, these affordable options will help you capture stunning real estate images without straining your budget. Happy shooting!
Where to buy: Amazon, eBay, Adorama, or Walmart. See our Suggested Equipment Guide